Revamping an old Semi Abstract Watercolour Painting
Posted on
Recently, I was getting some artwork ready for an upcoming exhibition and as you may or may not know, this can often involve testing how they look in various frames and mounts.
I had one particular painting that I painted last year, that started bugging me everytime I looked at it. There were elements I loved such as the colour palette, the line drawings of flower shapes in ink and the metallic watercolour highlights, but it seemed like there was something a bit lacking. I looked and looked at the painting, as I tried it in various frames, trying to figure out what was bothering me. This was especially frustrating because before this, I was perfectly happy with it and therefore had even exhibited it before.
In the end I decided to just sit quietly with it, gently play around with it and see if I could figure out what it needed as I went along.
The painting is called 'Enchanted Garden' and this is how it looked before: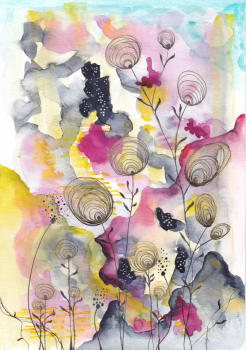 It went through various stages as I looked at reference images online and made decisions about which direction to go in:
I knew that despite how much I loved the saturated colours, I wanted to knock back the part of the painting that represented the sky and make it more of a background element. I also knew that I wanted the mountains to play a more important part and for the flowers to lead the eye through the painting. I wanted there to be a more obvious foreground, middle ground and background and I think I have achieved this somewhat. The final thing to do was flatten the painting since the paper had become warped during the revamp.
It has certainly been a huge learning experience to rework a watercolour painting, which can be more challenging than an acrylic or oil painting. Both acrylic and oils allow for sections to be covered up more easily with thick paint when you want to start again.
This is what the painting now looks like and I personally think that it is a vast improvement. I've changed the name to 'Enchanted Mountains' and this update has given the piece more depth and a narrative that is more obvious. I find that there is something interesting and fantastical about the flower shapes that are looking so much bigger than the mountains.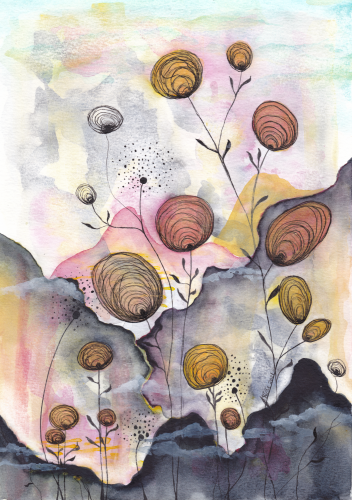 'Enchanted Mountains' is now on show in the current group exhibition I'm taking part in called Faded Lines at the Stamford Arts Centre, Stamford, Lincolnshire. I am exhibiting with fine artist Tony Nero and fine art photographer Paul Saunders, and I must say our work looks great displayed together in the light filled gallery space. The exhibition is going well with lots of interest and if you'd like to know more about it, have a look at my events page here.
To see more of my original artwork, please click here.