Revamping an old Semi Abstract Watercolour Painting
Posted on
Recently, I was getting some artwork ready for an upcoming exhibition and as you may or may not know, this can often involve testing how they look in various frames and mounts.
I had one particular painting that I painted last year, that started bugging me everytime I looked at it. There were elements I loved such as the colour palette, the line drawings of flower shapes in ink and the metallic watercolour highlights, but it seemed like there was something a bit lacking. I looked and looked at the painting, as I tried it in various frames, trying to figure out what was bothering me. This was especially frustrating because before this, I was perfectly happy with it and therefore had even exhibited it before.
In the end I decided to just sit quietly with it, gently play around with it and see if I could figure out what it needed as I went along.
The painting is called 'Enchanted Garden' and this is how it looked before: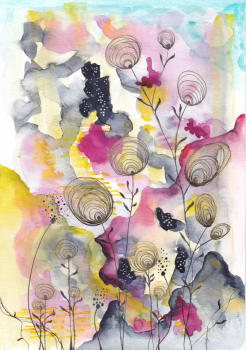 It went through various stages as I looked at reference images online and made decisions about which direction to go in: